doc. JUDr. Vojtěch Šimíček, Ph.D.
Vice-President (since 4 May 2023); Justice (since 12 June 2014)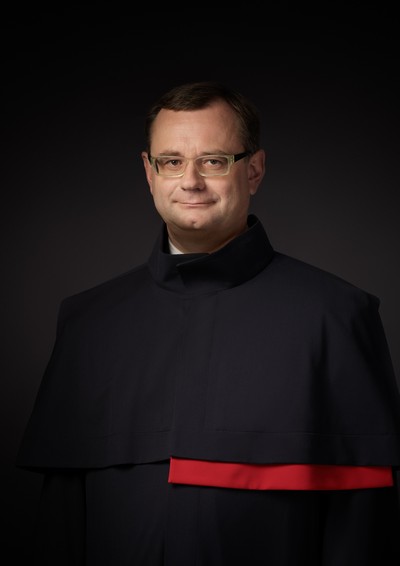 Born in a distinctive cultural and industrial Moravian-Silesian metropolis of Ostrava in 1969, he spent a happy childhood there, which resulted in his calm and balanced personality. In 1992, he graduated from the Masaryk University in Brno, Faculty of Law, where he obtained his Ph. D. later in 1995 and became an associate professor there in 2001. He studied in Regensburg, Bochum and Vienna. In addition, he spent five months as an intern in German Bundestag. He loved it everywhere, however, he never really thought about working abroad. In 1996 – 2003, he worked as a law clerk of a Constitutional Court justice. In 2003, he was appointed a judge of the Supreme Administrative Court. Apart from being a Presiding Judge at the financial administration collegium, he also served as a president of the seven-member chamber for the electoral matters, matters of local and regional referendum and matters concerning political parties and political movements, and a president of the six-member disciplinary chamber for judges. Since 1992, he also teaches constitutional law and courses related to it at the Masaryk University in Brno, School of Law. He is an author or a co-author of tens of specialized texts and publications published in the Czech Republic and abroad, he edited several collections of papers, and he is a member of certain editorial boards. He is happily married to a beautiful, tolerant, funny and witty wife, and a father to three mostly well-behaved and kind children. Except of customary upbringing of his kids, he spends his free time passionately indulged in (mainly) collective sports. This joy is in no way spoiled by the fact that he is regrettably not good at any of them.
The President of the Czech Republic appointed him as a Justice of the Constitutional Court on 12 June 2014. On 4 May 2023 the President of the Czech Republic appointed him as a Vice-President of the Constitutional Court.
Back