Library of the Constitutional Court
The library of the Constitutional Court primarily covers the resources focusing on constitutional law, international law and, on a general level, on European (communitarian and EU) law, while simultaneously covering the areas of legal theory, legal history and political science.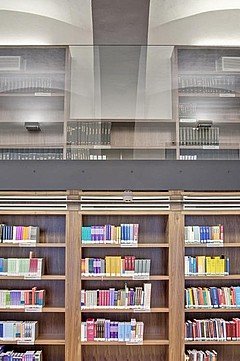 On this website you will find an electronic library catalog: knihovna.usoud.cz

The library's acquisitions follow these criteria: as a matter of principle, Czech legal publications from all fields of law are acquired. As far as foreign publications are concerned, the library focuses on German and English-language resources, as well as on French-language titles to a lesser extent.

It aims at providing a concise representation of fundamental publications concerning constitutional law, international and European law, legal theory and philosophy, covering not only the matters of Anglo-American and continental law but also of other legal cultures.
The library is to serve as both a library and a reference library to be used primarily by judges and other staff of the Constitutional Court, enjoying their full-user rights. However, since the refurbishment of its new premises completed in October 2010, it has become accessible to the professional public and other legal and court institutions. External users may enter the library upon prior agreement with the staff and may use it as a reference-only library.
Closer cooperation has also been established with the Library of the Supreme Court, while both institutions coordinate acquisitions of foreign publications and, upon completion of the implementation of a new information system at the Library of the Supreme Court, their catalogues will be shared.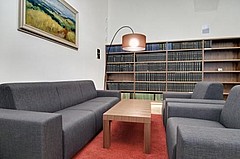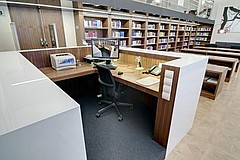 Foto: Petr Soukup